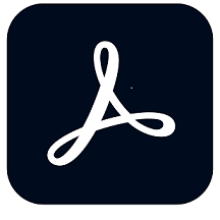 Adobe Acrobat Pro 2020 for Windows
Description
Adobe Acrobat Pro 2020 is publishing software for viewing, creating, combining, and controlling Adobe PDF documents for distribution, collaboration, and data collection.
This donation provides a license that allows a single user to install and use the software. The license key provided with this product will expire on December 1, 2026. See below for additional licensing information.
Benefits for Organisations
You can use Acrobat Pro to
Create and publish outreach materials or professional reports that combine multiple types of content
Save paper and money by creating and distributing electronic documents and forms
Ensure document accessibility for people with disabilities
Major Capabilities
Convert or scan to PDF: You can create Adobe PDF documents from any application that prints, including Microsoft Office software, web browsers like Chrome and Firefox, and Lotus Notes. PDFs can also be created from scanned paper documents and forms.
Combine and compare files: You can combine a range of file types into a single PDF document or place them into a single portfolio. Documents and portfolios can include multimedia content, including FLV or H.264 video and web pages. You can also compare two versions of a PDF document to detect any differences.
Protect PDF files and documents: You can apply document controls and security with password protection; permissions for printing, copying, and changing; and digital signatures. You can also permanently remove concealed information and use redaction tools to permanently delete sensitive content.
Collect data with fillable PDF forms: You can create fillable forms from scanned paper, PDF documents, Microsoft Word documents, or Excel spreadsheets. Filled-out forms can be collected into a searchable, sortable, PDF package, and their data can be exported into a spreadsheet.
Perform collaborative document reviews: Multiple participants can conduct collaborative document reviews that allow reviewers to see one another's comments. Users of the free Acrobat Reader as well as Acrobat Pro can add comments to documents.
Export PDF files: You can save entire PDF files or just selected portions of them as Microsoft Word, PowerPoint, or Excel documents, retaining layout, fonts, formatting, and tables.
Licensing
If you're the licensed user, you may also install and use the software on a secondary computer. The secondary computer may be a home computer or portable computer and must be of the same platform. You may not run the software simultaneously on both the primary and secondary computers.
Choose Carefully
The administrative fee for this product is not refundable, and the product cannot be exchanged.
Restrictions
To review the Adobe Donation Program Rules, Eligibility and Restrictions please click here.
Obtaining this product
When TechSoup approves your donation request, we will send a message to your organization email address with instructions for obtaining and activating this product.